Sunday November 24, from 3pm: Christmas starts early at St James in November with the long-awaited return to New Malden of the Friary Brass Band.
The Friary is one of the premier brass bands in the country and their unique sound will fill the church on Sunday, November 24, from 3pm.
One thing is certain: it won't be Silent Night.
The Friary Brass Band's repertoire is stirring and uplifting, a real musical tour de force.
And with just a month to go to Christmas Eve, the Award-winning band will be teaming up with St James much admired choir for a new take on seasonal favourites, followed by mince pies and mulled wine. It promises to be a concert to remember.
One of the special treats on the programme will be the chance to listen to featured soloist Isobel Daws, principal trombone in the band. She was winner of the BBC Young Brass Award in 2017 and played live on Radio 2. As the competition winner, she was also featured as soloist at the British Open Brass Band Contest.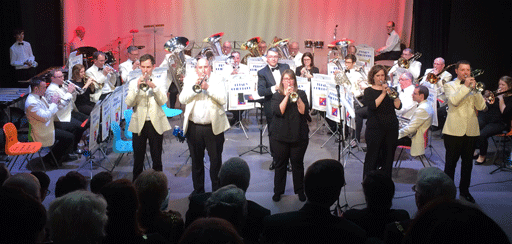 Isobel said: "It will be lovely to be back at St James, I'm really looking forward to it. It's a superb venue in which to play and the audience have always been really appreciative. We're already discussing what we will play. Everyone in the band is excited."
From a musical family, Isobel began playing the cornet at the age of three before moving on to trombone. Brass playing is in her DNA with her family's background firmly rooted in music within the Salvation Army. She also reached the BBC Young Musician Brass Category Final in 2014 and 2018.
Vicar Katie Thomas said: "This is going to be a memorable start to the festive season and once again shows the amazing diversity of music that plays such an important part in our life at St James."
The Friary Brass Band is a traditional brass band of 28 amateur musicians, based in Woking but travelling across the country to entertain audiences. Originally formed in 1983, the Band takes its name from the Friary Meux brewery in Guildford who provided sponsorship its first ten years.
Conducted by musical director Chris King, the band has enjoyed an excellent run of success in competitions. In 2010, they became the first ever band from London and the Southern Counties to win the First Section National Finals title and since then have gone from strength to strength, being crowned London and Southern Counties Champions for the last 5 years and appearing at the National Brass Band Championships of Great Britain for the last 7 years. They're now ranked 24th in the world.
Make sure you are there.
Tickets £12 adults, £5 children under 12 years from: