Holy Week Services
Sunday (14 April)
A Service of Meditation on the Eve of Holy Week
Service starts at 6.30pm and features music, readings and quiet time to reflect on the journey of Jesus from his triumphant entry into Jerusalem to his subsequent betrayal and crucifixion
Monday, Tuesday and Wednesday (15 to 17 April)
Compline
A quiet, contemplative service of evening prayer starting at 9.00pm
Maundy Thursday (18 April)
Mass of the Last Supper
Service starts at 7.30pm, followed by Watch at the Garden of Repose from 9.00pm
Good Friday (19 April)
Meditation on the Stations of the Cross
From 12.00 noon until 2.00pm, children's craft workshop in the Church Hall at the same time
Veneration of the Cross
Service starting at 2.00pm
Easter Eve (Saturday 20 April)
Easter Vigil
Service starting at 7.30pm
Easter Day (Sunday 21 April)
8.00am Said Eucharist
9.45am Sung Eucharist and Easter Egg Hunt
6.30pm Festal Evensong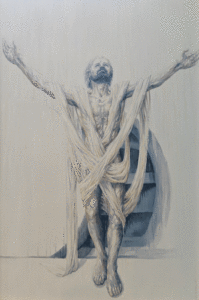 When you are in Church this Lent and Easter, take a look at our new art exhibition whilst you are there – Iain McKillop's "Stations of the Cross".
Lent Study Course
This Lent, St James Church Malden is proud to host the Churches Together in Malden 5 week study course.
No registration needed, just come along to all or just one session.