Our Zoom book club is on Monday evenings at from 7.30 pm – all welcome.
Joining details for the next meeting are below.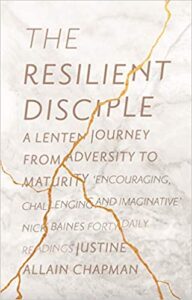 The Group is reading "The Resilient Disciple" by Justine Allain Chapman, a great book with helpful advice for living and surviving in this world alongside some beautiful prayers.. The group will be led by Mother Katie.
If you are interested to purchase the book it can be obtained from Amazon among others sellers.
St James Malden Help Point is inviting you to a scheduled Zoom meeting.
Topic: Lent Book Club 2023
Time: Feb 27, 2023 07:30 PM London
Every week on Mon, 5 occurrence(s)
Feb 27, 2023 07:30 PM
Mar 6, 2023 07:30 PM
Mar 13, 2023 07:30 PM
Mar 20, 2023 07:30 PM
Mar 27, 2023 07:30 PM
Please download and import the following iCalendar (.ics) files to your calendar system.
Weekly: Download
Join Zoom Meeting
https://us06web.zoom.us/j/83643246804
Meeting ID: 836 4324 6804
One tap mobile
+442034815240,,83643246804# United Kingdom
+442039017895,,83643246804# United Kingdom
Dial by your location
+44 203 481 5240 United Kingdom
+44 203 901 7895 United Kingdom
+44 208 080 6591 United Kingdom
+44 208 080 6592 United Kingdom
Meeting ID: 836 4324 6804
Find your local number: https://us06web.zoom.us/u/kdhVwLZ5Em