This Lent we are encouraging people to read their Bible more. We will be blessing and dedicating our first pew bibles and continuing to raise money for more. With Churches Together in New Malden we will host a Lent course on Thursday evenings from 7.30 pm – 8.30 pm exploring "Great Chapters of the Bible". This will begin on Thursday 3rd March and promises to be a very interesting course with speakers from all the churches – I do encourage you to come!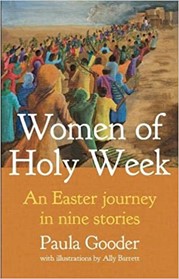 We will also be running a Lent book club – which will meet after the 9.30 am Sunday service in the Lady Chapel. We will be studying 'Women of Holy Week' by Paula Gooder which will look in detail at the Bible stories of that last week through the lens of women there.
And finally we are hoping to produce our own Lent booklet: 'Passages to Pause For'! This will be similar to the Advent booklet we produced a couple of years ago. We invite you all to contribute – and we ask that you pick a bible passage and write no more than 300 words on why you like it – and why you think it is a good passage to read in Lent. Want to have a go? Contact Mother Katie to be included.